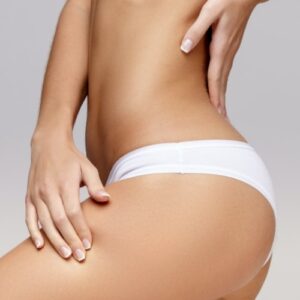 When dieting and exercise fail to bring your desired results to fruition, body contouring surgery offers an extremely versatile approach to reshape unresponsive areas of the body. These procedures can get rid of excess skin, remove stubborn fat, and generally sculpt your body to achieve a smoother, more contoured, and hourglass-shaped silhouette. Popular areas of treatment include the abdomen, flanks, back upper arms, thighs, and buttocks. Aesthetic fellowship-trained plastic surgeon Dr. Jared Garlick develops a personalized and safe surgical plan with each patient to resolve their unique concerns.
The body sculpting options below can help refine your silhouette after pregnancy, significant weight loss, or following unwanted changes caused by the natural aging process. We encourage you to contact our office for more information about the surgical and non-surgical services available to enhance your body contours.
"I cannot express how amazing Dr. Garlick and the entire Plastics Clinic staff are! Dr. Garlick was incredibly kind and listened to my overall goals; he was honest about realistic outcomes and was so patient with my questions. Even better than his listening skills are his technical surgical skills. I am so entirely happy with my results"
Mommy Makeover
A Mommy Makeover is a treatment plan designed to improve the areas commonly affected by pregnancy and breastfeeding, often with the goal of restoring one's pre-baby body. A Mommy Makeover combines breast and body procedures according to your personal cosmetic goals and generally includes some sort of combination of tummy tuck surgery, breast surgery, and liposuction, among other treatment options. Since a treatment plan is custom-tailored to each patient's needs, no two Mommy Makeovers are exactly the same.
Tummy Tuck (Abdominoplasty)
A tummy tuck s considered the gold standard of reshaping the midsection to achieve a firmer, flatter, and smoother shape in the abdomen. Pregnancy, weight loss, genetic predisposition, and aging can all cause the stomach to protrude outward, sometimes causing a bulging or hanging belly. Abdominoplasty is designed to redefine the abdominal contours by repairing stretched rectus abdominal muscles (Diastasis recti), eliminating excess skin, and removing isolated fat. Dr. Garlick pays special attention to contouring the abdomen and torso circumferentially in a 3D fashion (rather than just treating the front of the body, which many surgeons tend to do) and he places a high importance on creating a very natural-looking belly button. A natural belly button is what separates a standard tummy tuck from an exceptional tummy tuck. Dr. Garlick trained under one of the most well-known plastic surgeons for creating natural-appearing belly buttons. Dr. Garlick has created his unique and very specific approach to creating the perfect natural belly button post tummy tuck, ensuring a very natural-looking belly button reconstruction.
Liposuction
Liposuction can be a simple, straightforward, and highly effective means of fat removal for areas prone to stubborn fat buildup. Using the most up-to-date techniques, such as employing power-assisted liposuction and incorporating VASER® and Renuvion® skin tightening, Dr. Garlick can perform the procedure to help you achieve a slimmer, sleeker, well-contoured, and etched look in the treated regions. It is very important to search for a plastic surgeon who has extensive training and experience performing liposuction. It is important to know the credentials and training of the provider performing liposuction. Liposuction cannot be performed by just anyone.
Brazilian Butt Lift (BBL)
A Brazilian Butt Lift (BBL) is a popular technique that uses your own fat from other regions of your body to augment, enhance, and reshape the buttocks. A BBL is often considered a more natural alternative to silicone implants. Removing fat from the abdomen, flanks, back, or thighs and transferring it to the buttocks can make the buttocks look rounder, contoured, and more pronounced without the need for a gluteal implant.
Body Lift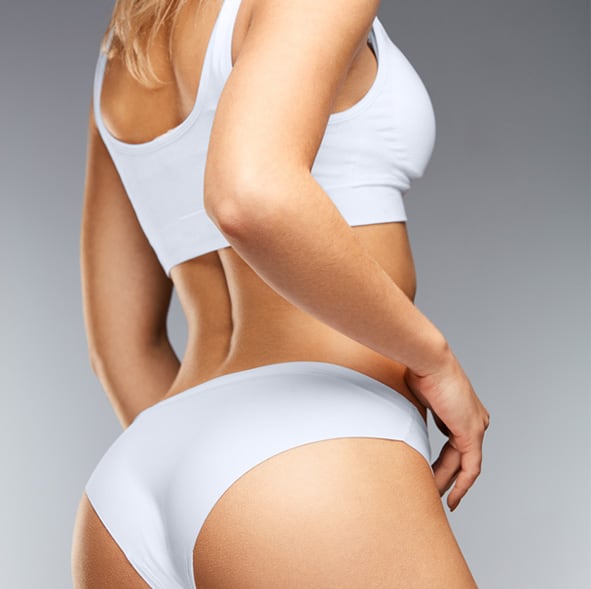 A body lift is commonly pursued after patients have received bariatric surgery or undergone significant weight loss, leaving behind areas of loose, excess skin and fat. This comprehensive treatment plan typically combines more than one procedure to treat multiple areas simultaneously. It is important to understand that weight loss affects the body in a circumferential manner, whereas pregnancy tends to only affect the anterior abdomen.
Buttock Augmentation
Buttock augmentation is designed to improve the shape of the buttocks by addressing loose skin and fat. Patients can augment the volume of the buttocks to provide a more sensual, voluptuous look or remove hanging tissue to achieve smoother, tighter contours. When performed to address skin laxity and excess fat, the procedure is commonly known as a "buttock lift" and is commonly performed in combination with a lower body lift or belt lipectomy.
Lower Body Lift
A lower body lift generally focuses on the upper thighs, lower back, buttocks, and/or abdomen depending on each patient's needs and goals. Excess skin, stubborn fat, and/or weak musculature that may be compromising a well-defined contour are addressed in each area respectively. Dr. Garlick tailors this combined treatment plan according to your aesthetic desires. He has a unique technique he brought with him from his aesthetic fellowship, where he addresses the common problems facing lower body lifting surgery. He places an emphasis on creating a smooth, contoured silhouette with a defined waistline as well as fuller hips and buttocks using a combination of liposuction, fat transfer, and lower body lift procedures.
Torsoplasty
Also called a "back lift," or a "back reduction," a torsoplasty is performed to remove rolls of skin and/or fat on the upper back — particularly in the region just below or within the bra line. Excess tissue accumulating in this area is very common after massive weight loss, with the severity of these concerns varying from patient to patient. Dr. Garlick can remove the redundant tissue to improve skin tone and restore a smoother contour in the upper back.
Arm Lift
An arm lift primarily addresses the upper arms, which can develop a hanging look over time due to an accumulation of isolated fat and/or excess skin. Also known as "brachioplasty," arm lift surgery can circumferentially tighten, smooth, and sculpt the upper arms to reclaim a tighter, more youthful shape and appearance. Liposuction is commonly combined with the removal of excess skin to help shape your upper arms.
 
Thigh Lift
Thigh lift surgery circumferentially contours the thighs to eliminate loose, hanging tissue and excess fat. This can improve the appearance of the inner thighs, as well as help alleviate any irritation or chafing caused by excess skin and fat. Loose skin is lifted and localized fat is removed if necessary, thereby reducing a sagging look and enhancing the overall thigh shape. Wound healing is a very common problem for patients who undergo thigh lift surgery. Dr. Garlick has tailored his technique to mitigate the common problems which cause wound healing with this surgery. His tailored technique lessens the risk of wound healing issues and hides the scar well along the inner thigh. 
Labiaplasty/Vaginoplasty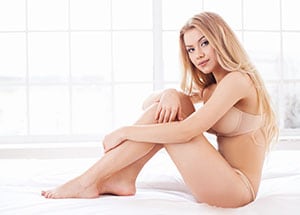 Labiaplasty and vaginoplasty are both procedures designed to improve the appearance and/or function of the labia or vagina. Labiaplasty is typically performed to remove stretched, excess tissue in the labia minora (inner labial folds), which can cause friction/painful twisting and tugging, or an undesired appearance. Many women do not like the appearance of the inner labial folds extending past the outer labia majora, which is an aesthetic concern that labiaplasty can help address. This rejuvenation surgery can also help improve pain during intercourse, hygiene issues caused by elongated labial tissue, and other medical conditions in the intimate areas.
Vaginoplasty is often performed for more reconstructive purposes and can address a range of medical concerns, including vaginal injury, complications related to pelvic floor disease, childbirth defects, and more. This procedure is becoming more commonly sought out for cosmetic purposes to help tighten the muscle lining of the vaginal canal. Dr. Garlick will provide you with more personalized information about this surgery during your consultation.