Breast augmentation is the preeminent cosmetic surgery procedure for women who would like to enhance the size, fullness, and contours of their breasts. With the range of advanced implant options available, patients who want to improve their breast size and shape have many possible "looks" to choose from — whether they desire a subtle, natural result or a more noticeably enhanced outcome. In any case, Dr. Jared Garlick — a fellowship-trained plastic surgeon — uses a customized and tailored approach with each patient to help them achieve an exceptionally natural result. Modern techniques designed to refine every detail, including enhancing the profile of the upper breast, maximizing the longevity of an implant, and better defining the cleavage, among other goals, are utilized to obtain the superior breast augmentation results Dr. Garlick is known for.
It's not uncommon for some patients to desire a more rejuvenated breast appearance along with increased volume. If you would also like to resolve breast sagging (medically referred to as "breast ptosis") at the time of your surgery, Dr. Garlick can discuss the option of combining your augmentation with mastopexy. During your consultation, Dr. Garlick will confirm whether you're a good candidate for this surgery. Women considering breast augmentation should be in good overall health and maintain realistic expectations for the outcome, as well as a positive outlook on the procedure.
"I couldn't be happier with my experience with Dr Garlick and the team at The Plastics Clinic. I debated getting breast augmentation for years, and I am so glad I finally decided to have it done."
What are My Breast Implant Options?
Selecting the right implants to make your aesthetic goals a reality will involve a number of determinations on top of picking saline versus silicone, such as choosing round or teardrop-shaped implants, as well as subglandular (over the chest muscle) or submuscular (under the chest muscle) implant placement. The types of breast implants available include:
Saline Implants: Made of saline solution inside of a silicone shell, saline implants have achieved beautiful results for decades and are FDA-approved for patients 18 years of age or older. Saline implants can give patients peace of mind in the extremely rare event of rupture, as they often provide visible indications of a leak. If this occurs, the saline solution should be harmlessly absorbed by the body.

Silicone Implants: Consisting of silicone gel filled inside of a silicone shell, silicone implants are known for their natural look and feel. They are FDA-approved for women over who are 22 or older, and tend to keep their shape if a rupture occurs. The new generation of silicone implants are much improved from the previous generation of implants that may come to mind, offering a higher degree of safety and longevity when compared to older silicone implant models.
We understand that the decision-making process can be overwhelming without an experienced plastic surgeon to guide you through the consultation stage, surgery, and recovery period. At our Salt Lake City-area practice, the choices you make during breast augmentation — including the most optimal incision technique, implant location, and size/type/shape of implant — will be made in consultation with Dr. Garlick to help ensure you can achieve the results you envision.
How is the Breast Augmentation Procedure Performed?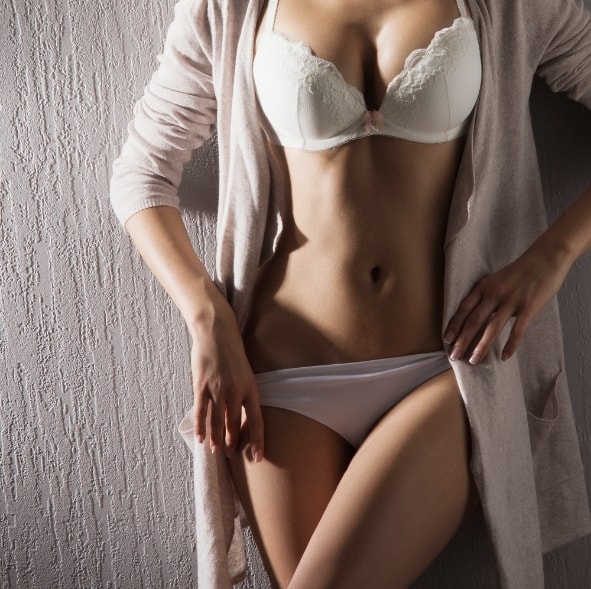 Breast augmentation is an outpatient surgery performed in our accredited surgical facility under general anesthesia. Dr. Garlick employs many techniques to maximize the overall outcome of breast augmentation, including customized suturing of each breast fold and use of the GalaFLEX® Scaffold "internal bra" in some patients to reinforce and support the breasts after surgery. This internal, bioresorbable scaffold can help support the soft tissue of the breast and implant, adding to the longevity of your breast augmentation surgery. This is especially helpful when using larger-sized implants and in patients with thin skin and minimally defined inframammary breast folds.
Fat Transfer Breast Augmentation
"Fat transfer" or "fat grafting" is a technique designed to inject excess fat cells taken from elsewhere on the body into the breasts, allowing your own tissue to provide a natural volume enhancement. This is commonly referred to by many as "natural breast augmentation." Fat grafting is most successful when used to shape and contour the breasts, often being utilized to enhance breast cleavage. In general, about 50 to 80 percent of the transferred fat will remain in the breasts and behave just like the rest of your fat cells, meaning the size of your enhancement will increase and decrease as you gain or lose weight. Due to the fact that not all of your fat survives in fat grafting, Dr. Garlick usually discusses planning for a possible second round of grafting to ensure you achieve your optimal and equal breast size. In your consultation, Dr. Garlick will discuss all of the pros and cons of fat grafting to the breasts with you.
Custom Cleavage™ with Fat Grafting Breast Augmentation
Custom Cleavage™, Dr. Garlick's custom-tailored approach to breast augmentation, often involves enhancing the cleavage lines with a combination of implants and fat grafting. Many women have naturally wide breast cleavage due to their anatomic breast footprint, which is specific to each patient. While the breast footprint cannot be repositioned, your own fat can be transferred to the medial quadrants of the breasts to add shape and contour,  bringing the cleavage lines closer together. This works best in combination with implant placement to truly achieve a beautiful, proportional breast shape and the custom cleavage you desire without the help from a bra.
What Can I Expect During the Recovery Period After Breast Augmentation?
Plenty of rest will help facilitate the healing process after your breast augmentation. Dr. Garlick will advise you to practice light ambulation as soon as you feel up to it, including standing, walking around the house, and other types of light activity that can help reduce the risk of blood clots. Swelling, possible bruising, and a general feeling of soreness are likely for the first two to three days after surgery, which can be easily managed with over-the-counter and prescribed pain medication. 
Most patients are able to return to office-based work within one week, with more strenuous or demanding jobs often requiring 10 to 14 days of rest before returning to work. Exercise, aerobic activity, and heavy lifting are typically prohibited for six weeks depending on your unique rate of healing. Dr. Garlick will monitor your progress in periodic follow-up appointments after your procedure and personally advise you on activity restrictions accordingly. Rest assured that he will provide you with detailed recovery and aftercare instructions. 
If you have any questions about breast augmentation, or if you're ready to discuss your goals with Dr. Jared Garlick, please contact our office today.