Having children can be one of life's greatest blessings, but the unwanted body changes caused by pregnancy and breastfeeding can be difficult to reverse with even the most rigorous dieting and exercise regimens. A Mommy Makeover is a combination of surgical procedures designed to reshape the areas commonly affected by pregnancy, ultimately helping women reclaim their pre-baby body. Dr. Garlick is an aesthetic fellowship-trained plastic surgeon who specializes in modernized Mommy Makeovers to help restore your confidence as much as your pre-pregnancy contours.
"I had the best experience with Dr. Garlick, He is an amazing doctor! I couldn't be more happier or more confident with my body thanks to dr. Garlick. His bedside manners are top notch! "
What are My Mommy Makeover Treatment Options?
The procedures which are commonly incorporated into a Mommy Makeover are usually a combination of breast procedures, tummy tuck, liposuction, and labiaplasty. The specific procedures making up your Mommy Makeover surgery are chosen based on your concerns and the results you hope to achieve. Based on your health, preferences, and the overall complexity of the desired procedures, your Mommy Makeover may be performed in one surgery or completed in stages. While the procedures listed below include the most popular treatments in a Mommy Makeover, patients are not limited to these options and may incorporate alternative or non-surgical procedures as well. 
Breast Augmentation and/or Breast Lift
Most women are aware of the ways in which the breasts change shape after pregnancy, nursing, or the natural effects of aging. Lost volume and sagging are commonly experienced, sometimes leaving the breasts looking flat, stretched, or elongated with the nipples pointing downward. Breast augmentation and mastopexy are extremely popular options to rejuvenate the bust and restore filler, lifted, and younger-looking breast contours. These procedures can be performed separately, or implants can be placed at the same time as your breast lift to maximize results.
Breast Reduction
While most women may lose volume in their breasts following childbirth and breastfeeding, some women may maintain large breasts. This can lead to further sagging, which may also contribute to back pain associated with the weight of the breasts. Breast reduction surgery is a popular surgery for these women to help reduce the size of the breasts, along with lifting the breasts and nipples to a more rejuvenated appearance.
Tummy Tuck
The abdomen often undergoes the most dramatic changes after having children. Concerns experienced after giving birth commonly include stretched, separated abdominal musculature, a loss of skin elasticity resulting in excess hanging tissue, and pockets of localized fat buildup. A tummy tuck can correct all of these issues and help you reclaim a flatter, smoother, and shaped abdomen.
Liposuction
Liposuction is often among the least invasive procedures included in a Mommy Makeover. Accumulation of excess fat in the abdomen and flanks, thighs, or submental area (neck) is very common during pregnancy. Using advanced technology designed to minimize discomfort and recovery time, liposuction can remove stubborn fat from virtually any region of the body.
 
Labiaplasty
If stretched labial tissue is causing you pain, or if you simply feel self-conscious about the appearance of your intimate areas, labiaplasty can be an effective treatment to trim and recontour the labia. This vaginal rejuvenation option can help alleviate pain during intercourse, reduce discomfort caused by twisting, pinching, and tugging, or provide a more symmetrical and youthful look.
What Can I Expect During the Recovery Period After a Mommy Makeover?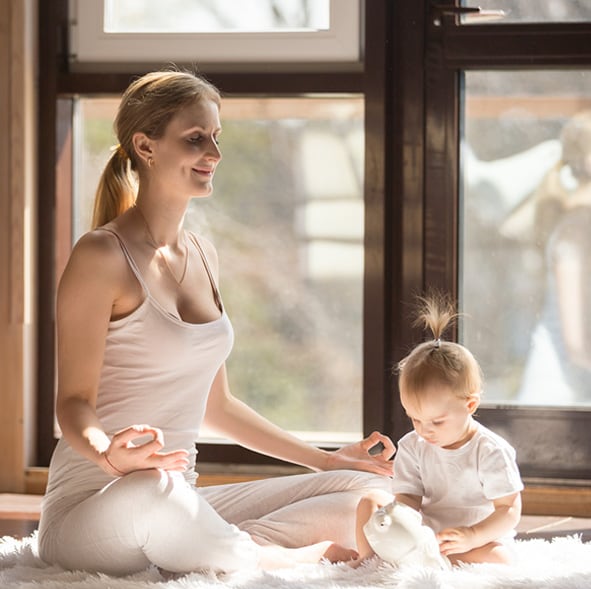 Since a Mommy Makeover is custom-designed for each person, the exact details of the recovery period differ from patient to patient. In most cases, you can expect to return to work two to three weeks after surgery depending on the procedures that make up your treatment plan. It's often recommended to enlist help with childcare, household responsibilities, errands, pick-ups and drop-offs, etc. to allow yourself plenty of time to heal from your Mommy Makeover in those early weeks. Swelling, mild bruising, and general discomfort are expected, but usually managed well with over-the-counter pain medications. Dr. Garlick uses a special long acting pain medication during the tummy tuck surgery which he injects along your muscle repair. This helps greatly in reducing the amount of pain medication you need post operatively, therefore making you more comfortable in that early post-operative period. Additional information about activity restrictions, incision care, your anticipated recovery timeline, and other post-operative instructions will be provided and discussed at length before your procedure so you can prepare adequately for everything.
A Mommy Makeover is completely personalized to improve your unique concerns and tailored to make your desired curves a reality. Contact our office today to schedule your consultation or to speak with a friendly member of our office about a customized Mommy Makeover with Dr. Garlick.